GERMAN LANGUAGE CENTER SAMUI
ศูนย์ภาษาเยอรมันสมุย
Group Lessons
Free and unlimited!
In addition to the private individual lessons all stu­dents receive group lessons at no extra charge.*
The dates depend on the partici­pation of the students.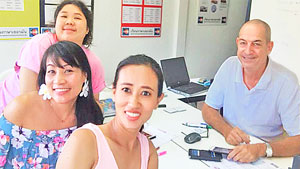 In this group lessons, you have the oppor­tunity to ask individual questions and share your experi­ence with other stu­dents.
Important basic knowledge will be intensified, test simulations will be carried out under realistic con­ditions and you will learn interesting facts about life in Germany, as well as habits, manners and customs of the Germans.
This way, you can gain a lot of experience and are well pre­pared for the examination.
Even after successful completion of your course, the group lessons are not only free of charge but also un­limited!
* minimum three persons.
subject to change.
Passed!